Some people might assume that furnishing an apartment costs a fixed amount, but in reality, it's not that simple. Many factors influence the actual amount you will need to pay.
Of course, you have considered the cost of big and essential items like a bed, dining set, and sofa. But what about other stuff like cupboards, shelves, and curtains? All these things can quickly add to your bill.
If you are wondering, How much does it cost to fully furnish an apartment? You have come to the right place. In this article, we will explain the real cost of furnishing an apartment and the tips to save more money.
Furnished vs Unfurnished Apartment
If you are always on the move, turnkey apartments could be your best bet. These ready-to-go places come with all the necessities, such as appliances, furniture, bedding, kitchen stuff, and more.
A furnished apartment feels more like a home than a space. If you are looking for a comfortable place to live, then choosing a furnished apartment would be the best choice.
On the flip side, an unfurnished apartment is great if you are planning to stay put for a while. These places are like a blank canvas, with just a few basic things like carpets and curtains. You get to furnish and decorate them as you like, making it your own cozy space.
Cost of Furnishing an Apartment Based on Budget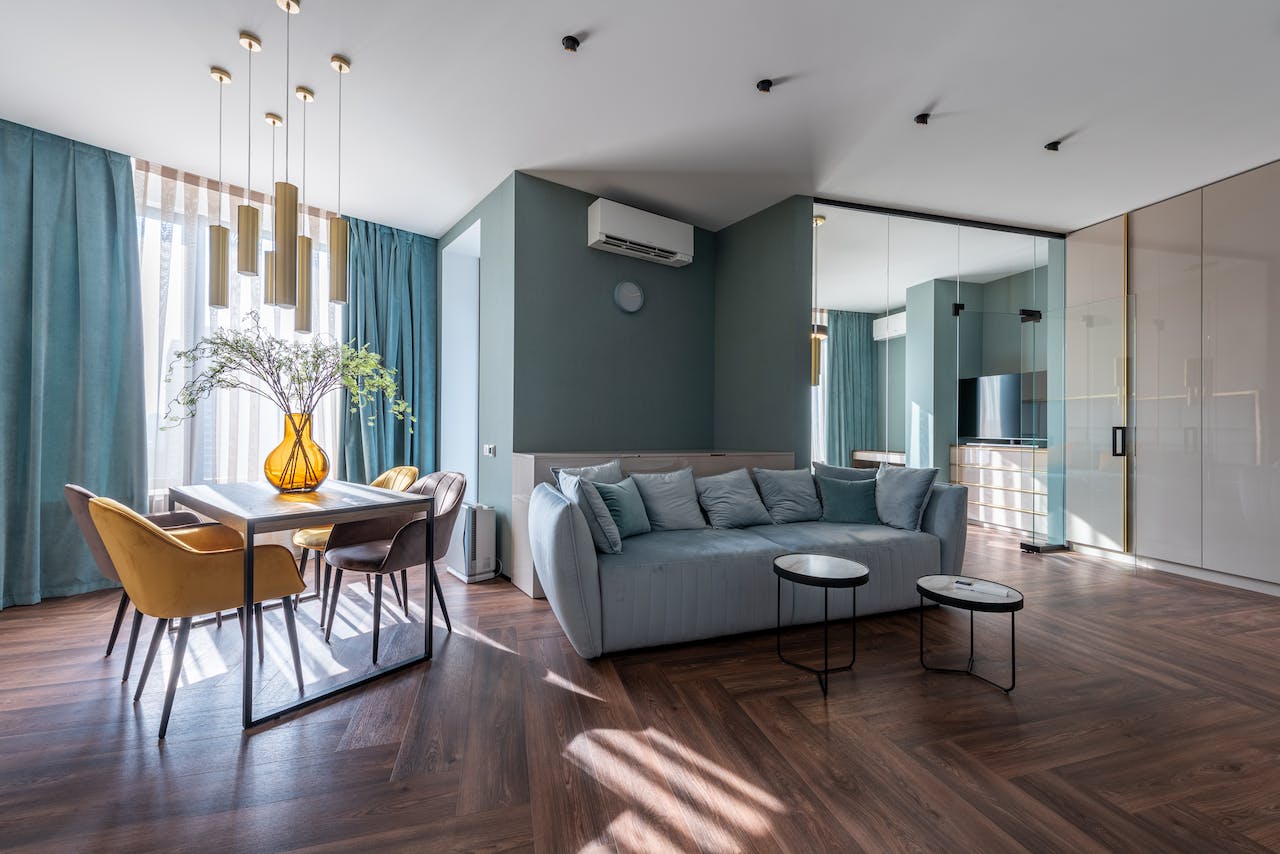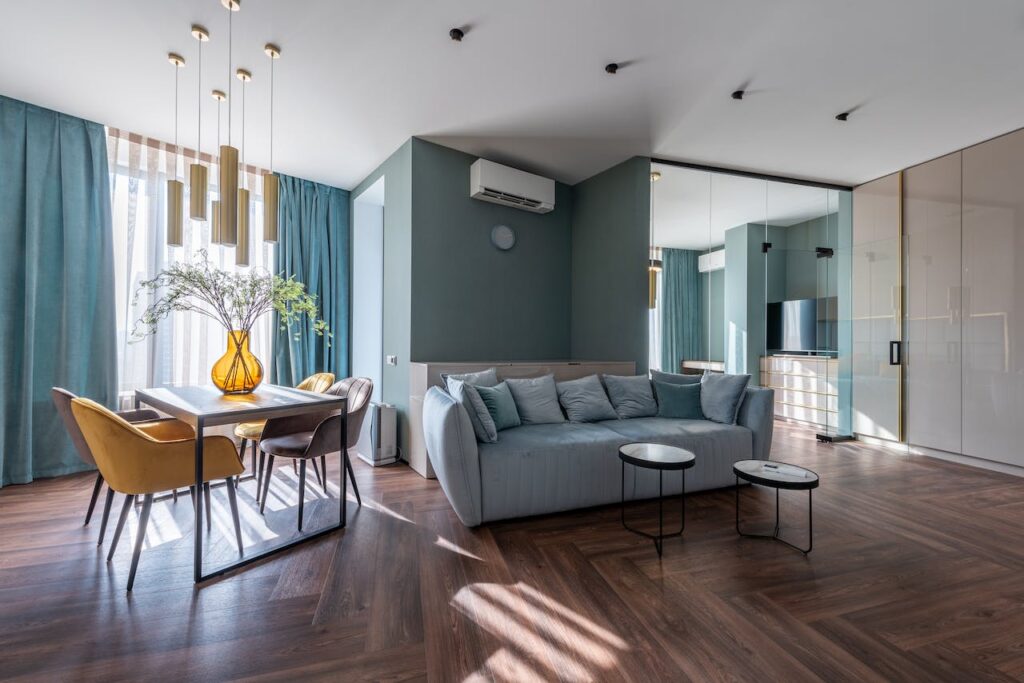 How much does it cost to fully furnish an apartment? There's no definite answer to this question. The cost varies depending on various factors, such as the size of the apartment, location, budget constraints, etc. In this section, we will give you a brief idea of the cost of furnishing an apartment.
Low Budget
Let's talk about furnishing your apartment on different budgets. If you are working with a tight budget, you might be looking at around 3 to 4 lakhs to get your 3-bedroom apartment in order. This includes basic kitchen fittings and a 3-door wardrobe for a medium-sized apartment.
The kitchen comes with standard cabinets, a hob, and a hood. You will also find handy kitchen stuff like waste bins, pullouts, trays, and the like. This setup works well if you plan to rent out the place or if you are saving up for fancier furnishings in the future.
Medium Budget
Moving up to a medium budget, you can deck out three bedrooms, a kitchen, a dining room, and a living room. You are looking at a budget of about 5 to 8 lakhs for a 1500 square feet apartment, perfect for a small family in need of the basics.
Each bedroom will have side tables, beds, and a 3-door wardrobe. The living room will get a shoe rack and a TV stand, and you will have a 6-seat dining chair and table. This budget works well for apartments between 1400 and 1800 square feet.
High Budget
Now, if you are going all out with a high budget, you are probably dealing with a bigger space, like an apartment over 2,000 square feet. This could mean a budget starting at 10 lakh rupees and upwards.
With a big budget, you can have every detail just the way you want it. Your bedrooms, kitchen, dining space, and living area, will be custom-made with precision. High budgets can be divided into three categories: soft furnishings, core furnishings, and the extra touches that make your place luxurious.
How To Furnish An Apartment On Budget?
Buying new furniture pieces will cost you a lot of money, especially if you are planning to furnish and decorate your entire apartment. If you don't have that kind of budget, renting would be the best choice.
Renting furniture is a great financial move for those looking to save money. It offers a cost-effective alternative to the hefty upfront expenses associated with buying furniture. By opting for rental, you can enjoy the comfort and style of well-furnished living spaces without requiring a heavy investment. Not only does it eliminate the need to purchase expensive furniture, but it also negates the long-term costs of maintenance and repairs.
Renting allows you to keep your wallet happy while still enjoying the benefits of quality furnishings. This makes it a practical choice for budget-conscious individuals or those in temporary living situations.
Recommendation To Rent Furniture Online
If you choose to furnish your apartment using rental furniture, Frequip would be the best choice for you.
I have been using the Frequip furniture rental service for a while now. For someone like me who was on a tight budget, Frequip is a blessing. Their range of furniture options is both stylish and affordable. They allow you to choose the pieces you need for your space and deliver them without extra charges. Plus, they also take care of maintenance and repairs which is a huge relief.
Final Words
As discussed in this post, the cost of furnishing an apartment will vary depending on various factors. However, you can reduce the cost by opting for furniture rentals. This way, you can also experiment with new styles of furniture.
FAQs
How much money do I need to furnish a new apartment?
The cost to furnish a new apartment can vary widely depending on location, size, and personal style.
How much does it cost to furnish an apartment in India?
The cost of furnishing an apartment in India can vary greatly, but a moderate budget might range from 3 to 8 lakhs or more, depending on the size and specific needs of the apartment.
What do you need to fully furnish an apartment?
To fully furnish an apartment, you need essential items like a bed, sofa, dining set, kitchen appliances, and basic decor. However, the specific requirements will vary for different individuals.
How much does it cost to furnish an apartment in the US?
Furnishing an apartment in the US can range from a few thousand dollars to tens of thousands, depending on the size of the apartment and the quality of furnishings used.